Reviewed by - Andru Aesthetik
I'll be the first to say that I am a fan of Interpol, not so much because of their music but more so now because of what they have come to represent. When it comes to the popularity of post-punk music today, there is no doubt that they lead the way and have proved that this genre can have viability and commercial appeal while not at least totally sucking.
I remember when I first got their debut Fukd ID 3 EP way back in 2001. It showcased a band that had a raw energy & vitality. Subsequently, when their debut album Turn On The Bright Lights came out, I was definitely impressed and felt that this band was going to be serious contenders within independent music. Though Interpol has certainly gone on to to justify that claim, I feel now that sadly, whatever it was this band had when they released their debut album, they've clearly lost by now. But that's not to say they haven't gained something in return as there are some marks of growth and progression on this album, its just nowhere as great as the first one and less accessible than the last one. But did you seriously expect it to to be?
On this album I get a strong sense of a band that is trying to be something more than they know they're capable of. On some songs it seems as if they're attempting to grasp whatever it was that they had with their first album, while other songs sound like uninspired out takes from "Antics". A clear example of this would be the current first single, "The Heinrich Maneuver" which is nothing more than "Slow Hands" flat out regurgitated and its one of the better songs on this album if that tells you anything.
I will give the band credit and say that I feel they have wrote probably one of the better songs of their career, albeit on their weakest album but that's just what "Pioneer To The Falls" is. Epic and extremely powerful, "Pioneer.." is easily the best song of the album which upon first listen will lead you to believe that Interpol is back to doing what they're best suited for but sadly its a false start as the rest of the album cannot support the weight of that first song.
Other songs like "Mammoth", "Pace Is The Trick" & "Rest My Chemistry" show that the band has managed to create some rather decent songs that grip you whereas a good example of them outstretching themselves would be the album closer "Lighthouse" which goes for a more subdued & sparse approach that is interesting but seems out of place compared to the rest of the album. "Mammoth" could have easily qualified as the second best song of the record but it suffers severely for Carlos D.'s plagiarism of Peter Hook's bass line from Joy Division's "Means To An End", which is unfortunate because otherwise it's a rather intense and powerful track.
Musically speaking, the guitar interplay between Daniel Kessler and Paul Banks has suffered a bit and is no longer as clever and complimentary as it used to be although there are a few good moments mostly thanks to Kessler's more ambient parts. Also, I don't know why but Sam Fogarino's drumming has become less dynamic than it used to be and has transformed into a more basic and plain style, which is really sad because his playing on Turn On The Bright Lights was some of the most creative yet powerful drumming I had heard on a modern record.
Overall, I would say that this release is a mixed bag for Interpol fans. It possesses much of what made the last album "Antics" a disappointment, while having very few of the qualities that made it entertaining. That means that a lot of their newer fans won't be as much into this album as they were into Antics whereas their fans who loved Turn On The Bright Lights will notice that the band is trying to reach out to them with a couple songs but still lacking the will to commit fully to a more focused approach.
Personally, I feel that Interpol's strength as a band lies in their ability to craft more ethereal, moody music than more progressive pop friendly songs. Antics suffered greatly as an album due to the lack of a NYC, Untitled, Hands Away or Leif Ericsson. This album starts and closes with two sprawling, epic songs but what is sandwiched between them is rather hit or miss and demonstrates the band's confusion (whether they know it or not) over how to deal with their own popularity which has probably eclipsed their abilities.
The first time I saw Interpol live was in 2001 at a very small venue in West Hollywood called The Troubadour, which handled 300 people at the maximum. I remember that a lot of their equipment had been stolen prior to the show and they were playing with some borrowed gear they managed to put together on the spot. Fast forward six years later and their next upcoming show in Los Angeles will be headlining at The Forum, which seats about 18,000 people. 300 to 18,000, that should give you an idea of the growth and scope this band has amassed within such a short period. When a band becomes that big, there's no doubt they have fully entered the mainstream of commerciality and Interpol has certainly done that. The reason why fans like me sometimes struggle with it is because there is always a sense of betrayal when a band that only got off the ground because of its underground fan base, becomes so huge that they have to cater to the masses. Interpol does their best to try and ride that fence and keep both sides interested and this album demonstrates that divide more than anything else but how long will they be able to maintain the balancing act? Eventually, they will have to commit to one or the other and if they try to say that's something they don't even concern themselves with, then that in itself is thier decision, whether they like it or not.
Records of Reference:
The Chameleons - Fan & The Bellows
Joy Division - Closer
Echo & The Bunnymen - Crocodiles

Official Site
My Space Profile
---
---
Rescue Me - Live
Review by - Jaclyn Hayes

To the passerby, Rescue Me would seem to be a four-some of indifferent men, yet they are all tied by tragedy. Their music shows each of them adding a different hue of darkness to their sound that brightens their bitter shadows with unique textures. Sentiments of Peter Murphy and Ian Curtis echo throughout these dulcet tones of melancholy electro babble. These impressionable gentleman unlike most bands that are grouping themselves to be heard these days, carry a more distant quality to their talents, staging a visual impact upon those who witness their visionary appeal, while still remaining out of the popularity contest and pretentious light of promotion. They offer a sensual taste to swallow, without the acrid aftertaste of the usual musical meal. Watching them play, left me both effected and impacted, wanting to hear more of their black celebrations.
Rescue Me, exudes a shy hidden mystery, while completely showing their raw passions at the same time. They're the perfect soundtrack whilst tying up a lover in the back of a car, or bleeding out ones veins on the bathroom floor. They provide emotion in a sexually stimulating experience. I demand you to listen.
Further thoughts from the editor:
I have to agree with this review. I'd also like to mention how perfectly this band combines electronic dance elements with traditional post-punk. They not only succeed in using two often misappropriated styles in popular music. But they do it with respect to each genre while adding a little something of their own to the mix as well. If you liked fellow SF native Every Move a Picture, and Murder of Lilies, you will surely enjoy Rescue Me! - Joshua Pfeiffer
Links:
Rescue Me on MySpace
---
Veil Veil Vanish – Into A New Mausoleum
Reviewed by - Andru Aesthetik

Do you like post-punk? Do you also like shoegaze? Do you like your music dark like your Pornography-shirt-wearing rotting soul? Well, my friend you are in luck.
From the ashes of bands like Andalusia, Jada Morning & Astral, four forces united and out of the thick San Francisco fog emerged Veil Veil Vanish. Although I have never heard Jada Morning or Andalusia, I was always a fan of Astral and in some ways Veil Veil Vanish bears some sonic similarities to that band but I feel their sound is more focused than Astral and far more visceral and dark.
"Into A New Mausoleum" is their debut self-released six-song EP. Although not a full albums length, the six songs on this EP almost make it feel like an album as it gives the band enough space to flex their various music muscles. Whether it be the more intense post-punk feel of a song like "Shadows Dripping Like Honey Kissing" or the melancholy shoegaze grandiosity of "All Hands In Prayer" or a song like "What Will You Say Tonight" which finds the perfect balance between those two extremes.
What I personally love about this band is that you have frontman Keven Teacon on one guitar providing the more distorted staccato parts while Cameron Ray is on another creating huge atmospheric walls of sound that tonally sound very much like an old ARP Solina Strings Synth (Chameleons, The Cure, New Order) or better yet the string section of an orchestra. When you actually hear the music your ears will be fooled into thinking that they have someone on keyboard playing all these very gothic passages when its really just one man with a guitar. Personally, this is my perfect prototype for a 'two-guitar' band.
Whereas most bands these days who mine the catacombs of '90s shoegaze get lost in atmosphere for atmosphere's sake, Veil Veil Vanish avoid that pitfall thanks to their post-punk roots. Whether fast or slow, their songs actually reach out and grab you instead of lulling you off to sleep. Keven Teacon's vocals are never buried in the mix and are sung with emotion and intensity. Instead of just being brushed lightly, Robert Marzio's creative drum playing is right up in your face and along with Amy Rosenhoff's driving bass lines they provide a rhythm section that really grounds the band and at times thrust it forward. This passion is in essence what makes them truly a post-punk band and not just another Slowdive rip-off.
Personally, I have been waiting a long time for a band with this type of sound. In many ways "Into A New Mausoleum" very much feels like what The Cure's Pornogrpahy would have sounded like if Neil Halstead and Kevin Shields were on guitars. In other words, Veil Veil Vanish successfully blend their strong post-punk sensibilities with a love for shoegaze soundscapes all interwoven into a cloudy & foreboding atmosphere that brings a new edge to existential ennui.
Records of Reference:
The Cure – Pornography
Slowdive – Just For A Day
Cocteau Twins - Garlands

Links:
---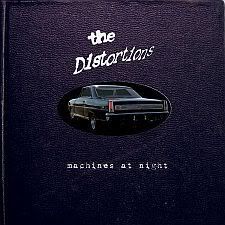 The Distortions - Machines At Night
Reviewed by - Andru Aesthetik

L.A. based band The Distortions have just released the album that you are going to be playing in your car all year for every one of those long breezy trips out of town and short excursions driving through the city at night. For that reason it is no coincidence that this album is titled "Machines At Night".
With "Machines At Night", The Distortions have released a remarkably subtle and nuanced album that effortlessly dispels any notions of the sophomore slump with such restrained & reflective cool that too many bands in the indie scene these days wish they had but fail to find for their follow up.
Though not a bad album in its own right, The Distortions first album "Exploding Teenage Body Part" was somewhat uneven. When comparing songs like the blistering punk fury of the title track to the more dreamy shimmer of a song like "Shoegazer", I felt like the band was being drawn in two different directions and could not fully commit to one. Such is certainly not the case with "Machines At Night". Where the previous effort felt like a collection of random songs, "Machines At Night" feels like a true album in the classic sense of the term.
Every facet of this album is ten notches above and beyond its predecessor. The songs on this album meander from a delicate intro into an otherworldly crescendo while others just drift by in a dreamy pace all accompanied by soul-searching lyrics that reflect on those unrealized promises that life makes us and the broken ones that we make in turn everyday. Whether its on the aptly titled song, 'This place doesn't have the balls to kill me' where singer/songwriter/multi-instrumentalist F sings, "I'm looking good / but hurt to touch, I'm so alone / much too much, I'm feeling good / but sometimes ache, from those who love / but love to take" or on "Galaxies rearranging" where he softly serenades the lines "I can see me crushing under thoughts of what's to come / I wonder if I got a soul no one could ever want / I think of losing everything and living in the street / I think of how the bad I've done is closing in on me / and then I think of you / I think of you / and from the chaos comes something new". Words like these bring a sincerity and depth to this album that you connect with immediately. Its personal but universal.
As good as the songs are themselves and the poetry of the lyrics, it is in the musicianship/instrumentation that the true accomplishment and beauty of this record really shine through the brightest. The Guitars sparkle, the Drums rumble, the Bass hypnotizes, Voices 'ooh' and 'ahh', Tambourines shake, the Glockenspiel chimes, the Pedal Steel wails and the Theremin moans all over this album. What is even more impressive is to see someone take such an obscure instrument that possesses such a unique sound as the Theremin does and use it in a tastefully artistic and specific way as multi-instrumentalist F does on songs like "Galaxies rearranging" and "Waiting for the searchlights to come".
Though alot of us may not be old enough to remember, there was such a time when music was not about bands having only one good song that you downloaded for 99 cents while the rest of the album was pretty much ignored. In this day and age of MP3 players and shuffled play lists, 'Machines At Night' stands in complete defiance of the idea that bands can't create an album of 10 songs that are every bit just as good as the other and flow perfectly from one song to the next. From beginning to end, The Distortions have succeeded in evoking a larger and greater experience that having only one good song can't even begin to compare with. It is for the lack of albums like this that the record industry's sales are at an all-time low.
As equally haunting as it is calming, much of what you will hear on this album will sound familiar; though at the same time strike you as something you will not necessarily know how to categorize. It is that sense of hearing something that you're so accustomed to feel so strange & foreign that summarizes not only what this album is about but also what makes it so good. The Distortions have truly stepped up with what can easily be considered one of the standout records of the year so far, and it stands to set them among some of their greatest peers like Doves & Black Rebel Motorcycle Club.
Records of Reference:
The Verve – Storm In Heaven
Doves – The Last Broadcast
Beachwood Sparks – Once We Were Trees
Black Rebel Motorcycle Club – Howl

Links:
Official Site
My Space Profile
---

Wierd Compilation - Wierd Records
Reviewed by - Joshua Pfeiffer

New York has long been known as one of the key places in the development of Rock, Punk, and Post-Punk music. Even today, many well known revival bands have spawned from its seedy depths. Bands like Interpol, The Rapture, Liars, and Radio 4 have all seen moderate to large amounts of success and have carved a nice niche for themselves in the music industry. But their is another world in N.Y.'s underground scene. A fiercly independent group of likeminded individuals, and this 3 LP set (& 7" single) from Wierd Records is a testament to that. The compilation comes in a gatefold package, with very impressive production quality for an independent label. On top of that it also includes a totally D.I.Y. 30 page book (not a booklet), filled with photo collages, band info, lyrics, a brief history of the label, and it's related weekly club event.
Wierd was founded by Pieter Schoolwerth, a local DJ who wanted to create a safe haven for the more eccentric and unusual artists of his scene. Fortunately for the rest of us, this creation has branched out to encompass many more areas than simply the Northeast Coast. So far the Wierd roster includes artists from New York, Miami, Chicago, Germany, and Sweden. The genres this label mainly covers fall under the range of Coldwave, Minimal Elektronik, Post-Punk, Dakwave, and old school Industrial.
For those of you unfamiliar with the term "Coldwave" (not to be confused with the Industrial-Metal genre of the same name that came later), think of the minimal and atmospheric periods of bands like The Cure, Joy Division, Wire, Bauhaus, Clan of Xymox, This Mortal Coil, and throw in a decent helping of the cold synth work of Fad Gadget, Gary Numan, OMD, Tuxedomoon, etc. Then add just a dash of the early Industrial experimentalism of Cabaret Voltaire, Throbbing Gristle, and Einst..rzende Neubauten. Now that should give you some idea of the roots of Coldwave. The genre itself found popularity in the mid to late 80's mainly in Europe with artists like Asylum Party, Clair Obscur, Kirlian Camera, Little Nemo, Trisomie 21, and Norma Loy (to name but a few). But recently it has seen a resurgence of activity both in Europe and abroad. Though many of the artists performing music in this vein may not even be aware of the genre at all.
But back to the compilation itself, the three LP's feature 30 tracks (with two additional tracks on the 7"), and instead of going over each and every track, I will simply point out the ones that stuck out to my ears. Starting with the opening piece by Silent Signals "Exit Out", this track is danceable enough, yet still very cold and dissonant. This formula continues on the next four tracks, ranging from danceable to downright avante-garde and experimental. While "Under Attack" by Flesh Graey Display, and "Surround" by Tobias Burnstrup (one of my favorite songs on the comp) both feature faster BPM's and a more Industrial approach. "Let's Play" by 2VM is yet another more upbeat and dancey song. This one reminds me a bit of "The Vanishing" and my local favorite "Sixteens". It goes without saying how we at post-punk.com feel about Blacklist (I was initially made aware of this comp because of their inclusion), so it should come as no surprise that "Dawn of the Idols" (one of my most spun songs of 2006) steals the show. Blacklist almost feel out of place on this LP actually. Because they have a much more traditional Dark Rock approach (Chameleons, Killing Joke, and The Cult being key influences), with little to no synthetic elements. I actually hope Wierd adds more bands with these influences to thier roster in the future. Finally the second to last song on the first disc "Here is a LIfe" by Fanuelle is also one of my favorites. Eschewing the cold and dark influences found on nearly every other track, and taking a warmer approach with a melodic piano driven piece. This song is very gorgeous and uplifting, yet still quite bittersweet. "Western Ego" by Diako Diakoff closes out the first side with a hyperfast synth dance track.
"Into the Abyss" by Tobias Bernstrup is another solid number. Featuring a more synthpop approach than the Industrial of his previous offering. "Havoc Heap" and "Scrying Formation" by Opus Finis are both simply drowning in distorted darkness, as is "Porcelain" by Sleep Museum. "Tracking Shot" by Epee du Bois is another fine example of spacious darkness, with it's minimal but effective synth bass/percussion drone. "Exit" by Blacklist (which was previously featured on our Notes From the New Underground compilations) is a more upbeat affair than their previous track. Once again the rest of the songs on this set all fall under off kilter dance music, or straight up experimental noise.
Now for my criticisms, or should I say observations (as I really don't have anything negative to say about this collection). It seems as though 90% of the songs here could be recorded by the same artist. This may be more due to all of these musicians following the same template laid out by the earlier pioneers of the scene, or due to everyone loving the same basic drum machines, and distortion pedals on their synthisizers, but I would really like to see more variety from this kind of music. It would be refreshing to see some orchestral elements (though that's just my personal preference), and some guitars in these songs. After all most of the original Coldwave artists used guitars (though sparingly). But it really comes down to personal opinion. I must warn you as well, that this comp isn't for everyone. If your idea of Post-Punk only includes the more Disco-Punk bands of the genre, you may be let down by this. But if you have even a passing interest in Cold, Dissonant synthetic music... by all means order a copy! The packaging alone is worth the price! Damn it's almost 3am, I can't believe I made it to the end of this review.
Cheers!
Other Compilations You May Enjoy:
Witches of the West (West Coast Synthpunk/Coldwave)
Notes From the New Underground / The Post-Punk Legacy - Post-Punk.com (*Shameless Plug*)
Some Bizarre Album (Some Bizarre Records sampler)
Beaucoup (French Coldwave comp)
Facteurs d'ambiance (French Coldwave comp)
Natures Mortes - Still Lives / Lonely is an Eyesore (4AD Records compilations)

Links:
Official Site
My Space Profile
---

World Wide Spies - Images of Black and White LP
Reviewed by - Joshua Pfeiffer

Some of you may recall my review of the World Wide Spies EP "A Call to Action" a while back. Well the Los Angeles based New Wave/Post-Punk revivalists are back in action. This time with a full length release. And what a great release it is. Virtually every song has hooks aplenty, and catchy, melodic choruses. The same influences I cited in the previous review still ring true, but fortunately this full length is a step forward and not back in terms of quality.
"Three Cheers" is a nice catchy opening song (which is preceeded by a short instrumental). Their is still plenty of U2, Chameleons, etc. in their sound, but even more apparent is the bass playing, which is very similar in style to Derek Forbes from Simple Minds, and Duran Duran's John Taylor. This can be heard most clearly on the next track "Time Will Tell". "Images of Black and White" follows with a nice mellow laid back sound, that culminates during the call and response chorus sections. The next track "Better Friend Then a Lover" bears more than a passing resemblance to Franz Ferdinand's "Take Me Out" (whether or not this was intentional, I don't know? But honestly I think it is a much better track than the Franz song). "Philosphy" is probably my favorite track on the album, and it has all of the elements that the best World Wide Spies songs have. Once again those shimmery guitar shreds take center stage, and they just beg me to drop the early U2 comparisons again. "Heart" is another more mid-tempo song that has a calm and cool progression. It adds a pretty unique style to an already solid album. Finally closing out the original material is "What Are We Fighting For?", which is once again another really good and poppy song that reminds me a bit of their older song "Mystery" (But I have to ask... why the back up singers toward the end?). Closing out the album JFK has chosen to cover the old stand by Joy Division classic "Love Will Tear Us Apart".
Now let me just say right now that it takes a hell of a lot for me to be impressed by a cover of Joy Division, and I think musically these guys nailed it. However during the third verse and chorus I think JFK could have kept the vox more restrained like the earlier sections of the song. Maybe it's the added vocal inflections, but something threw me off toward the end of the song.
So yeah, I think the review gives you my overall impression of the album. In other words it kicks a lot of ass, and everyone reading this should drop by their profile and check it out! Oh and make sure to listen to our preview of Philosophy in the music player too!
Records of Reference:
U2 - Boy
Simple Minds - Sons and Fascination
Franz Ferdinand - Franz Ferdinand
Duran Duran - Duran Duran
The Chameleons - Script of the Bridge

Links:
Official Site
My Space Profile
---
Ceremony - Ceremony LP
Reviewed by - Joshua Pfeiffer

Some of you may recognize "Ceremony" from our latest post-punk.com compilation. And for those of you that heard it, you probably didn't miss their fabulous track "Clouds". Well I had the pleasure of listening to their entire self titled debut this evening, and I can confidently say that it is every bit as good as that track.
On many of the tracks the band manages to combine a lo-fi shoegaze approach, with more modern synth/futurepop flourishes (and all in a fittingly dark package). While the melodic and dreamy "Clouds" is far and away my favorite piece on this LP, pretty much every song stands out. Ranging from driving rock (Nothing in the Sun), to more dance friendly tracks (Living For Today), and a few more epic pieces (Clouds, and Old). While "Too Many Times" has a very obvious Jesus and Mary Chain influence, most of the other tracks sound more unique. I can draw comparrisons to older bands at times, but nothing that is too obvious. My only gripe is that at 7 tracks, it seems a bit short. I'm pretty sure this is mainly a demo anyways.
Overall this is a solid debut, and if the bands MySpace profile gives any indication, these lads are hard at work on a lot of new material that i greatly look forward to reviewing at a later date.
Records of Reference:
Jesus and Mary Chain - Psychocandy
Slowdive - Souvlaki
New Order - Low Life
Depeche Mode - Music For the Masses

Links:
---

The Ballad Bombs - And Then We Danced LP
Reviewed by - Joshua Pfeiffer

The Ballad Bombs hail from Gotham Germany. How fucking cool would it be to tell people you lived in Gotham Germany??
But seriously... back to my review...
The band almost fills the missing link between todays Post-Punk/New Wave revival and classic 80's Goth/New Wave. Bands like The Bolshoi, Gene Loves Jezebel, The Damned, Flesh For Lulu, and Lords of the New Church have been sadly forgotten by today's newest artists. But The Ballad Bombs wear these influences proudly on their sleeves. Vocalist AJ delivers his lines like the bastard child of Camoflauge's Marcus Meyn, and the brothers Aston of Gene Loves Jezebel.
"You and I" starts things right off with some of that classic Gothic influenced New Wave, followed by the dance single "All I Need". "Change it All" is another upbeat dance number (I hope it's just my system, but this song seemed to clip alot on my headphones). While the next track "Do It" slows things down and falls somewhere under the experimental material found on Depeche Mode's "Construction Time Again". The rest of the album follows the same basic formula. Though a few tracks do standout, such as the melodic and catchy "Young Europeans" (not to be confused with the classic Ultravox track "New Europeans"), the mid-tempo experimental EBM of "Mind the Gap" (which I swear uses the same bass synth as A Split Second), and the album closing pop of "Mr. Smeagol". Two bonus demo tracks are also included, but the second one "March of Ballad Bombs" is the better of the two. An instrumental track that would have fit perfectly on Camoflauge's "Methods of Silence".
I have only have one complaint. The first half of the album is pretty solid, but towards the end, some of the songs sound like different versions of earlier tracks on the album. Regardless, their is plenty of good material here to make it worth your while, especially if you've been fiending for something that fits snugly beyween your copy of Phantasmagoria, and Immigrant.
Records of Reference:
The Bolshoi - Friends
Gene Loves Jezebel - Immigrant
Lords of the New Church - Dance With Me
Camouflage - Methods of Silence

Links:
---

Dead Leaf Echo - Faint Violet Whiff EP
Reviewed by - Joshua Pfeiffer

New York's "Dead Leaf Echo" fall somewhere between mid-80's U2, and early 90's Morrissey. With slightly laid back vocals, and music that alternates between low key indie rock, to more heavy and driving fare. The album is a concept album of sorts based on the works of russian author Vladamir Nabokov.
The album opener "Clean", is one of the aformentioned relaxed and restrained pieces (though it does kick up the pace a bit later in the song), while "Walking Away" has a much heavier and rocking approach. There is a definite 90's alternative rock influence here as well (heard pretty obviously on "Poison Lips"). "Shell of Love" is another one of the more restrained, and very minimal pieces, with a very simple echoing guitar riff, mellow bass, and absolutely no percussion. Which all combines to create a very relaxed and somewhat unsettling atmosphere. Denial continues the album in the same low key vein, adding more elements as the song progresses. This is where the album should technically close, but their is a bonus track tacked on (a remix of Shell of Love), that doesn't really seem to fit on the album, as it just adds a pretty simple percussion loop, and some ambient effects in the background to an already solid track.
I could easily recommend this album to fans of more literary influenced music, as well as those that enjoy mellow crooned vocals, but the more dance oriented set may be slightly dissapointed with the majority of the tracks on this EP. That's not to say that the music is bad by any means. Quite the opposite in fact.
Records of Reference:
U2 - The Joshua Tree
Morrissey - Viva Hate
Bell Hollow - Sons of the Burgess Shale
The Church - Heyday

Links:
Official Website
My Space Profile
---
Mute Records - Fad Gadget Retrospective
Reviewed by - Joshua Pfeiffer

Like a gift from Daniel Miller himself. Here we find a treasure trove of material relating to the late great Frank Tovey. This is a two DVD, two CD set highlighting all phases of the mans musical genesis. From his early demos recorded in a cupboard in his London flat, to his short lived return to the stage in the early part of the 21st century.
For those of you that have lived in a cave for the past 25 years, Fad Gadget was one of the most influential electronic pioneers of the late 70's and early 80's. He created music using whatever he could get his hands on. His body of work spans everything from post-punk, industrial, new wave, and even electronic folk music. He is also notable as being one of the most extreme live performers of all time. Often causing himself massive injuries in the course of entertaining his audience. An incredibly talented, creative young man, and a gifted songwriter. His influence is undeniable, and it's hard to listen to any modern electronic music and not hear his imprint.
On the first DVD their is a nice lengthy documentary featuring interviews with friends, and collaborators such as Dave Gahan and Martin Gore of Depeche Mode, Boyd Rice, Daniel Miller, Franks family, and many other people that he touched in some way through the course of his life. The documentary chronicles his early days all the way to his untimely and tragic passing in 2002. This documentary alone is worth the price of the collection. But that's not all. Not by a long shot. Also featured on the first DVD are a number of TV and promotional spots for both his work as Fad Gadget, as well as his more pop oriented solo material, and his folk influenced project with The Pyros. One of the most interesting pieces is the short film Neon, which was directed by Alex Proyas (The Crow, Dark City etc.) using his second single Ricky's Hand.
The second DVD is made up entirely of live performances from his entire career. Including a lengthy performance at the legendary Hacienda in Manchester, and a reunion tour opening for label mates Depeche Mode on their Exciter tour (coincidentally DM got their start opening for Frank nearly 20 years prior).
Now onto the CD's. The first disc is compromised of Franks later material. A few of his last tracks as Fad Gadget, and a lot of his tracks with The Pyros. These pieces are comparable to The Pogues or Big Country, but with Franks signature distorted synths mixed into the music. Following these tracks are a few collaborations Frank did with Boyd Rice, a piece for a theatrical soundtrack he recorded in the late 90's and an unreleased demo of a new track Frank was going to use on his last LP.
The second disc is made up of his first demo tape which got him signed when Daniel Miller heard it, and the subsequent cleaned up versions of those songs. Their is also a collection of songs that were voted on by the fans for the CD, as well as a tribute by Temple X, a band that Frank produced and invited to play as his backing band on his reunion shows.
This collection is a priceless testament to one of the most under appreciated artists of the 20th Century. It is a tragedy that the world no longer has Frank Tovey, but Daniel Miller and the staff at Mute have done a great service to the world by releasing this collection, and I believe Frank would be proud of this labor of love. We miss you Frank. You are gone but never forgotten.
Links:
The Official Fad Gadget Website
---
Murder of Lilies - Beginning of the End EPT
Reviewed by - Joshua Pfeiffer

Reviewed by - Joshua Pfeiffer
Now we have an interesting specimen with San Francisco's Murder of Lilies. One of the newest post-punk bands in this area, they are equally influenced by classic artists as they are by the revival bands like Editors, Bloc Party, etc. On their debut EP "Beginning of the End", they make quite a nice splash.
The song Beginning of the End opens things with an uptempo number that has just the right amount of atmosphere, while still retaining it's danceability. It's nice to hear these new bands that take classic elements from other artists and do something new with them. Lakeshore follows with an equally strong presence. The third track Elector goes in a slightly darker and heavier direction than the first two pieces. While the closing track Anything You Want, takes things into a full bore gothic direction complete with choral backing and heavy tribal drumming.
I was actually quite surprised that they didn't include their first single "Black Water Deep End". I would have to say that one was one of my favorite tracks of 2006. Regardless this is a solid EP, and the last track alone is worth picking it up. Of course I'm a sucker for darker music.
Records of Reference:
Editors - Turn on the Bright Lights
The Smiths - The Queen is Dead
The Cure - Head on the Door
Modern English - After the Snow
Links:
---
The Prids - ...Until the World is Beautiful
Reviewed by - Joshua Pfeiffer

When we last saw Portland's "The Prids", they had just released one of the best LPs of 2003 "Love Zero", and now three years later they have a new full length with "...Until the World is Beautiful". For those unfamiliar with The Prids, they took the reigns of early post-punk and added an interesting twist with dual male, female vocals. David and Mistina have a long history, as they were once married, then divorced, and now playing in a seminal rock band together.
The opening track on this new offering "The Glow" sets the scene with a droney synth overlayed with tribal drumming and sparse classic post-punk guitar playing reminiscent of The Cure's early body of work. "Shadow and Shadow" is another more upbeat track with catchy riffing and clever lyrical arrangements. "Let it Go" brings in a more surf rock influence, heard especially during the descending guitar solos. "Before We Are" is another nice change of pace, as is the second to last track "Infection".
While the rest of the songs on the album are all good, they do tend to start sounding quite similar to each other, making it difficult to tell them from each other. I wouldn't go so far as to say they sound like filler material though. So once again The Prids pull off another immpressive release. I hope they are seeing some amount of success, as they more than deserve it.
Records of Reference:
The Cure - Faith
Wire - 154
Pixies - Doolittle
The Comsat Angels - Sleep No More
Links:
The Prids on MySpace
The Prids Offical Website
---
The Lost Patrol - Lonesome Sky
Reviewed by - Joshua Pfeiffer

New York's "The Lost Patrol" is quite an innovative group, on their fourth release "Lonesome Sky" they really nail their own sound. Falling somewhere between Duane Eddy, Nancy Sinatra, Dick Dale, and The Cranes. This is western dreampop, surfy lounge rock with more than a hint of post-punk influence.
The opening Cup at My Krater sets the mood with a nice mellow ballad. Some standout tracks include the slow burning Velveteen, the moody Neon Red, the uptempo Run Wild, and Stars Collide. It must also be mentioned that vocalist Danielle Kimak Stauss has some of the most gorgeously soaring vocals of any modern rock outfit. Her tone perfectly compliments this music. Equally the rest of the band is totally on the ball and the production of this release is also top notch.
The only complaint I have (though more of an observation than complaint) is that every song sounds quite similar. Of course that is bound to happen when you're playing in such a niche style. I would be interested to see what they could do with some other influences mixed into this unique style of theirs. All in all, The Lost Patrol is certainly worth your time, and I'm quite intrigued to see what they do next.
Records of Reference:
Duane Eddy - Rebel Rouser: Roots of Rock n' Roll
The Cranes - Loved
Nancy Sinatra - Nancy and Lee
The Cocteeau Twins - Heaven or Las Vegas
Links:
The Lost Patrol on MySpace
The Lost Patrol's Offical Website
---
Bell Hollow - Sons of the Burgess Shale E.P.
Reviewed by - Joshua Pfeiffer
I'm just going to be straightforward here and say that New York based Bell Hollow have recorded one of the most authentic post-punk releases in quite awhile. No mere revivalists. These chaps were all part of the mid 80's underground music scene and that experience can easily be heard on their debut four song EP "Sons of the Burgess Shale".
With a clever title like that one might expect The Chameleons 2.0, and while there certainly is quite a bit of that influence floating through these tracks. Comparisons to a few other not so obvious 80's Post-Punk artists such as Sad Lovers and Giants, Lowlife, and The Comsat Angels abound. Regardless these songs all have that ethereal dreamlike quality that made those artists so timeless.
Opening with the self titled Sons of the Burgess Shale, the quality and experience of these musicians immediately shines through. Greg Fasolino's delicate shades of reverbed guitar mingle with a bouncy bass line and steady drumming from Hayden Millsteed, while singer Nick Niles vocals offer a restrained yet powerful attack. Nick really has progressed from the demo material Bell Hollow released late last year, here he sounds much more confident and relaxed.
Bodies, Rest and Motion follows with a stronger and beefier sound than the opening track. Once again all elements intertwine perfectly to evoke a perfect mood. Secret Key comes slinking up next and brings the proceedings into slightly darker territory. During the chorus sections Christopher Bollman's throbbing bass attack practically leaps out of the speakers to attack the listener.
Closing track Shukriya Moon, brings things to a more upbeat level. Full of vaguely sexually charged lyrics and a playfull almost New Wave melody, that makes me sad that this is the last song on the E.P.
I know I am certainly looking forward to what these gentlemen bring to the table next.
Records of Refference:
Sad Lovers and Giants - Feeding the Flame
The Comsat Angels - Sleep No More
The Chameleons - Script of the Bridge
Lowlife - Permanent Sleep
Links:
Bell Hollow on MySpace
Bell Hollow's Official Website
---
CATPEOPLE - Reel #1
Reviewed by - Andru Aesthetik

CATPEOPLE are a group of four stylish gentlemen musicians who reside in Barcelona, Spain so it is no surprise that they create a sexy blend of new-wave/post-punk with a bouncy groove that gets in your bones and makes you want to get up and dance but can also convey emotion & sensuality just as effectively and passionately.

Whereas most bands these days can't even make an EP that has more than two good songs on it, it is impressive that CATPEOPLE have produced an entire album that flows like a good film and varies in moods but never becomes boring and always keeps you interested.

With influences like The Chameleons, The Sound, Depeche Mode, Pulp & The Divine Comedy all coming through their music in various ways at different times, Reel #1 makes for an exhilarating as well as enchanting listening experience.

There's no doubt that if some big record label with money snatched up this record it would be pretty successful, but in no way does that discredit the music or the band, but rather implies that CATPEOPLE are as every bit as capable and talented (if not more) as bands like Editors, She Wants Revenge & their closest contemporaries Elefant. If they continue to make music like this, maybe they will get the opportunity to show the world what they've got and most likely make alot of bodies move in the process.

Records Of Reference:


Elefant – Sunlight Makes Me Paranoid
Franz Ferdinand – Franz Ferdinand
The Departure - Dirty Words

Links:
---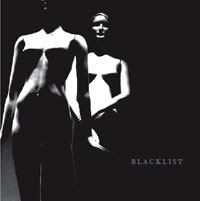 Blacklist - Demo
Reviewed by - Andru Aesthetik

I do not know how long I have waited for a group to come along that would be a beacon of darkness in the light. One that would signal a new dark age for the world of music and embody the true aesthetic of rock and roll that is meant to stir the intellect whilst reaching down into the farthest depths of our apathetic souls making us feel like everything and nothing is possible all at once. I feel that the waiting is over and that time has finally come as one particular group of post-punk prophets have been sent to us; they are Blacklist.

Hailing from NYC this four-piece is already a regular fixture in the darker under currents of the music scene that is taking place in New York playing in various clubs and dark lit bars. So far, they have played shows with The Bellmer Dolls, I Love You But I've Chosen Darkness, Screaming For Emily and the legendary Psychic TV.

If I had to pick one word to describe the music of Blacklist, it would be anthemetic. Their sound hits you right in the face, yet it is not brazen or bizarre, but rather bold and brave. The authoritative rhythm section of Glenn Maryansky's powerful & resounding drum playing is a breath of relief in a post Joy Division era of compressed drum sounds and more resembles the arena grandiosity of The Cult or early U2. Ryan Rayhil's bass playing compliments this perfectly by foregoing the worn out disco punk style so commonly found these days and going for something more thick & momentous that provides a tense backdrop for the rest of the band to set the stage. There is no doubt that front man Josh Strawn's guitar playing, lyrics & above all captivating voice are what truly carry this band over the edge.

With a voice very reminiscent of Steve Kilbey of The Church, Strawn sings and evokes with more of a sense of urgency and passion. His lyrics are a breath of relief in this day & age of songs that have no meaning with lazy word combinations like the subway is a porno or your hair is so pretty and red, baby baby youre really the best. Where most songwriters have nothing interesting to say or are too obscure about what they write, Strawn writes songs that float on the ambiguous but no doubt paint pictures of existential uncertainty, religious fanaticism, and the melting pot of political viewpoints in our post-war world. From the opening feedback of Strawns guitar on the first anthem Language of The Living Dead (for which they have recently shot a video) to the rollicking riff of Exit that is reminiscent of Night Time-era Killing Joke you are sucked right in. On the almost hymn-like Chameleons inspired opening riff in Dawn Of The Idols, the guitar playing is nothing short of breathtaking as it elevates you to the heavens almost just to shatter your hopes that it exists. When Strawn sings, New generation coming back for more, anything to ease the fear and trembling. Hes most likely commenting on religious escapism, but at the same time, it feels like those words could be the anthem for those of us who have had our ears to the ground and eyes to the sky waiting and searching for a band just like this.

This three-song demo was recorded sometime last year and since then Blacklist has already recorded many more brilliant songs that only prove they were and are everything they promised to be. I look forward to charting this bands future as I strongly feel they are destined for great things. They may be from New York, but they are set to rule the world that is, if the apocalypse doesn't come first.

Records of Reference:
The Cult - Dreamtime
Killing Joke - Brighter Than a Thousand Suns
The Chameleons - Script of The Bridge

Links:
Blacklist on MySpace
Official Site
---
lowsunday - elesgiem
Reviewed by - Andru Aesthetik
lowsunday is not a new band, but the one album they put out in 2001 was so great and almost completely overlooked that I feel its worth taking a look at now. This band was hardly known about before they imploded 5 years ago shortly after the release of this record in 2001. They had a very dreamy sound reminiscent of all the great shoegaze bands of the 90's like My Bloody Valentine, Slowdive, etc., but it also bore a strong influence from many 80's Post-Punk bands like The Chameleons, The Sound, & Sad Lovers And Giants. The thing that is special about this band is that they were among the few groups whose sound preceded the whole "80's revival" four years before it ever happened (not to mention preceding Interpols first album by a year). It is a shame they did not last because if they did they might have had a better response commercially with the way things started to change in the musical climate. Today, this album still sounds fresh and just as amazing as it did 5 years ago and that itself is an accomplishment that 90 percent of the bands making music today probably will not live up to. I highly recommend you check out these links to listen to "Elesgiem", a truly unheard and undiscovered gem, and grab a copy while you still can.

Records of Reference:
The Chameleons - Script of The Bridge
My Bloody Valentine - Loveless
The Sound - From The Lions Mouth
Links:
lowsunday MySpace
Projekt Records
Buy Elesgiem For 1¢!
---
The Departure - Dirty Words
Reviewed by - Andru Aesthetik

Essentially, The Departure sound like a combination of The Chameleons, early U2, & Gang Of Four with more reverb. This album also felt alot like what Franz Ferdinand's first album would have sounded like if all the guitars were put through huge reverb and delay effects. In that respect this is the album Franz Ferdinand wishes they had released in 05', but didn't. Lately, It seemed like every band was favoring disco over atmosphere. Don't get me wrong, I enjoy me a good danceable groove, but there's a million bands doing that right now. I feel The Departure's strengths lie in their ability to create songs that are equally atmospheric AND angular, therefore danceable but with depth. I have also not heard such complimentary playing between two guitarists probably since Interpol's first album. With that in mind, Its somewhat annoying that this album hardly made a dent in the U.S. given that it was released before fellow UK post-punkers Editors released their album "The Back Room". This was close to being the best release of 2005 for me and wherever any other year-end "best of" lists have Franz Ferdinand's newest album, as I'm sure nearly every publication will have it in the top 10, I will just cut it out and put a picture of The Departure's "Dirty Words".
Records of Reference:
The Chameleons - Script Of The Bridge
U2 - Boy
Gang Of Four - Entertainment!
Au Pairs - Sense & Sensuality
Links:
The Departure MySpace
Official Site
---
The Floor - Personnel
Reviewed by - Andru Aesthetik

The Floor is a 4-piece band from Edmonton, Canada who composed an 11-track post-punk masterpiece. When I first heard this album I was completely blown away. This record is everything I want in music: dark, edgy, atmospheric, melodic and magnificent. I have never been so impressed with such amazing guitar playing on a modern album as I was on this one. Almost every song is full of rich keyboard textures that carry the flanged echoey guitar riffs along with the melodic vocals of singer/guitarist Matt Pahl that are very reminiscent of Geoffry Runnings of For Against. With guitars right out of The Cure's "Pornography" or Red Lorry Yellow Lorry's "Talk About The Weather" and keyboards like something off of Killing Joke's "Brighter Than A Thousand Suns" or any Chameleons album, these guys meld all my most cherished influences into one perfect melting pot of UK influenced post-punk. I don't think I could say enough good things about this album. I just wish more people would have been able to hear it and that the band would have toured the States if only the Western and Eastern cities. What else can I say, Personnel is brilliant from beginning to end.
Records of Reference:
Killing Joke - Brighter Than A Thousand Suns
For Against - December
The Chameleons - Script Of The Bridge
Links:
The Floor MySpace
Official Site
---
Black Ice - Terrible Birds
Reviewed by - Andru Aesthetik

Thank the devil for this San Francisco group! Now that The Vanishing and The Phantom Limbs are no more, there is a hole in the world of post-punk/deathrock that nobody seems particularly fit to fill, until now. This album is dark, brooding and raw, displaying traces of all the great deathrock/post-punk greats of yesterday. Comprised of two former members of underground legends The Phantom Limbs, Black Ice is fronted my Miss Kel, who squeals and yelps with an intensity and sense of mania like former front woman of The Vanishing, Jesse Eva or better yet Siouxsie Sioux or Dinah Cancer. Melding haunting synth sounds with stark guitar playing and icy cold bass playing it all comes together to a fine mix straddling the line or better yet blending the lines of post-punk with deathrock. I hope they're in it for the long haul.
Records of Reference:
Siouxsie & The Banshees - Join Hands
45 Grave - Sleep In Safety
The Vanishing - Songs For Psychotic Children
The Cure - Seventeen Seconds
Links:
Black Ice MySpace
Official Site
---
Colder - Heat
Reviewed by - Andru Aesthetik


Colder is essentially a one man minimal electro band project of Marc Nugyen. Nugyen composes moody, minimal atmospheric electronic music with some post-punk guitars strewn about here and there. If you ever wondered what a cross of Joy Division & OMD might sound like, this would probably be it. Though there is an experimental feel to some of these songs, they don't seem to lose you like most "electronic" music does. For one, Nugyen sings over nearly every track, which gives it warmth, and though some of the songs may feel bleak and cold, the beats & rhythms have a funky groove that gets in your head. Serving as perfect late night listening party for the dark soul to unwind to, Colder has created an album ready to envelop your ears & body in warmth.

Records of Reference:
Section 25 - Key of Dreams
OMD - Organisation
Joy Division - Closer

Links:
Colder MySpace
Official Site
---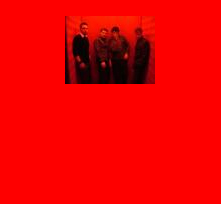 World Wide Spies - A Call to Action The New Wave/Post-Punk revival of late has produced quite a few great unique new bands, and just as many derivative ones. Los Angeles based World Wide Spies fortunately fall into the former category. Taking inspiration from the finer moments of artists like U2, The Chameleons, Simple Minds, Psychedelic Furs, The Skids, etc. Yet adding their own spin to these classic influences. Singer JFK originally hails from the UK, which adds a bit of authenticity to their sound as well. "Don't Hold Your Breath" starts the EP off with a nice powerful energy. "Love Goes Blind" follows taking a more angular Gang of Four approach mixed with a shimmery ethereal guitar texture. The New Wave ballad "Another World" slows things down a bit, while the Pop of "Mystery" bounces along with a very Madness, English Beat, Jam styled melodic approach. "Individual" the high point of the EP for this reviewer follows with a thumping drum intro that shatters like glass into a nice sparkling guitar riff the Edge would be proud of. This leads up to the anthematic chorus declaring JFK's disdain of being categorized. Closing the EP is "The Station", another New Wave ballad that wouldn't feel out of place on an album like U2's Joshua Tree.

http://www.worldwidespies.com

---
The Blackouts: History in Reverse
Reviewed by - Alyssa Sampson
Recently released on K Records, History in Reverse is a 16-track retrospective by this Seattle post-punk band covering their output from 1979-1984, gathering EPs, singles, and some other recordings. The band never released a regular LP. Most of the band members went on to join Al Jourgenson in Ministry after Ministry's Twitch album, including drummer Bill Rieflin. The songs are presented in reverse chronological order, so you experience the band's evolution backwards. The first several, produced by Jourgenson, are probably the best. The bass is deep, growly, muscular and bounding; the guitar is flange-y sounding yet loud and blackish; there's some of the best use of saxophone I've heard in post-punk (and I'm up to my ears in redundant saxes lately); and Erich Werner's swooping, caterwauling goth howl becomes irresistible after an initial chalkboard/fingernails growing period. And the drumming, wow. Percussion to die for, toms all over the place (I think people call that "tribal"), just try not to dance. On "It's Clay Again" the rhythms are expansive, on "Idiot" they're brutal while remaining danceable. "Happy Hunting Ground" is just plain perfect. This is fantastic, highly motivating dark dance music by a live rock band. As the record continues further into the Blackouts' past, the songs are less atmospheric and tension-filled but still satisfying in a Gang of Four, A Certain Ratio kind of way, and a curve-ball comes in near the end when they go a bit blues-rock on one song, bending the notes 'n stuff, sounding like a completely different band.

http://www.krecs.com/blackouts/

---

The Madison Strays - Lost in Photos E.P.
New York's Madison Strays are poised to take over the world. Never heard of them? Well give it about six months, and I guarantee you will! Coming out of the same Art School scene that spawned the likes of Interpol, Liars, The Walkmen, etc. Except much more uplifting and refreshing. One thing that stands out about these guys is how their music makes you feel really good. They sound like they wouldn't be out of place on any number of John Hughes soundtracks. On their debut EP the Madison Strays take pages from a number of books. All of the typical neo-Post-Punk comparisons abound, The Cure, New Order, Echo and the Bunnymen, etc. But most of all Richard Butler and The Psychedelic Furs, who are incredibly easy to hear (especially in singer Belvy's vocal style). It's also nice to see a new Post-Punk band who isn't trying to sound like a fusion of Joy Division and Gang of Four (which seems to be the trend these days). The EP starts off with "Last Train" which makes quite a heavy first immpression, it could easily be mistaken as a B-side off of Forever Now. It's filled with shimmery guitar melodies, and that all too familiar Butler-esque croon which permeates every facet of this debut. "Die Alone" follows and takes a slightly darker turn, incorporating some nice keyboard flourishes and retaining the overtly positive feel of the album. The third and final track "Grace" continues more in the vein of "Last Train", yet even more frantic and upbeat. Sounding more like something off of the Furs self titled debut as opposed to a cut from Mirror Moves, or Midnight to Midnight. It's as toe tapping as the rest of the material on display here, and a great way to end this magnificent debut. I see bright things in the future for these New Yorkers, and wish them much deserved success.

http://www.madisonstrays.com/

---

The Secret Society of the Sonic Six - Nite City
Here's a nice refreshing band from the seedy underbelly of Los Angeles. The Secret Society of the Sonic Six's debut LP Nite City is a sleazy, dirty, disturbing slice of electronic noise fused to classic Post-Punk rock styles. They draw from elements as diverse as Soft Cell, OMD, The Cramps, Nina Hagen, and even a little Leonard Cohen. The opening track "Tracers" is a hypnotic synth heavy piece with droning bass lines and dark, edgy vox. "Bad Citizen" showcases the Nina Hagen and Cramps influences heavily. It's sure to be a classic in the bands discography. My favorite song "Release the Shieks" follows, and starts off sounding very similar to the Sixteens recent work but quickly evolves into a rollicking upbeat dance number. This is a great fucking song that I just can't hear enough of. "J Ward" is a slightly more bouncy and fun track that's just as dark as anything else on the album. "VH" is a totally experimental piece that uses samples heavily. After all what would a good synth heavy album be without an experimental piece or two? The last track "Nite City" is another very experimental piece. Much more minimal than anything else on the album. I had the pleasure of seeing the band perform live a few months ago, and it was quite an experience. I highly recommend catching them if they happen to be stopping through your town.

http://www.sssonicsix.com/

---

Bloc Party - E.P.
The Bloc Party are a newish group from the U.K. that play danceable Post-Punk in the vein of Gang of Four. However unlike many of the Andy Gill wannabes around these days, Bloc Party have a very unique take on the standard minimal guitar meets throbbing bass style. The opening track "Banquet" is a catchy enough number, just begging to become another dancefloor filler. It's certainley a great way to open up their debut EP too. I've been spinning the next track "Staying Fat" at a number of recent gigs, even before I picked up this EP. Once again it's very Gang of Four inspired (just check out the Damaged Goods homage at the end of the song). The next song "She's Hearing Voices" changes the style up nicely, and is a good mid-tempo track. "The Marshall's Are Dead" is a somewhat more experimental and downbeat song. "The Answer" is another really nice song that takes a bit to build, but once it reaches the first chorus it reveals it's true pop colors, and obvious Buzzcocks influence. Now the last track took me totally by surprise a remix of the first track "Banquet" (Phones Disco Edit). Normally I don't care much for remixes, but in this case the mix actually enhances an already very danceable song. It's like a dirty Electroclash mix, but it manages to avoid the E-clash cliches, mostly by retaining all of the original arrangements. It really brings to mind classic 80's 12" remixes, the kind Razormaid was made famous for. Bloc Party have the potential to become the next big thing out of the UK and It sure doesn't hurt that they got to open for Franz Ferdinand a few times recently.

http://www.blocparty.com

---
Ultranoir - But They All Can't Be Loved EP
Finland's Ultranoir are another newish entry in the world of Neo-New Wave. On this 3 song EP one can trace their roots pretty easily. Shades of artists ranging from OMD, Yaz, and New Order, to Altered Images, The Wake, and The Cure can be heard. The opening track "Angst Mach Frei" pulses along nicely with subtle and minimal guitar elements, and a catchy backing synth melody. The second track "Schoolboy Deathwish" opens with some very Depeche Mode (Some Great Reward era) influenced synth work, while the guitars have a nice echoey, reverbed effect that sounds like it was taken straight off of The Cure's Faith album. The final track "Why Can't We Believe We Can't Be Loved?" always makes me think of The Wake's "Crush the Flowers" single. With sprightly guitars and shimmery synth and piano work, as well as the welcome addition of backing female vocals. This is by far my favorite song on the EP. If you like early Dark Poppy New Wave styled music Ultranoir comes highly recommended!

http://www.ultranoir.net

---

Moving Units - S/T EP
Los Angeles Trio The Moving Units are about ready to storm the charts with their brand of dance inflected Post-Punk. If you've ever enjoyed a song by Gang of Four, Wire, The Rapture, or especially Public Image Ltd., then you will most likely find something you like hear as well. Personally my favorite track has to be the darkly funky "X and Y" which sounds suspiciously like the PIL song "Another" (especially during the chorus). The opening track "Between Us and Them" is likely going to be a radio single along the lines of The Walkmen, The Stills, The Strokes, etc. "I Am" is another great angular funk inspired song, which just screams Gang of Four. The final track "Melodrama" has a more sparse guitar arrangement and bouncy bass line. Every track on the EP is just incredibly dancey, the only complaint is that none of these songs really do anything new with the obvious influences they emulate. The Moving Units have a new full length LP coming out in October.. expect to see a review posted here promptly after we recieve a copy. Hopefully they will explore their sound a bit more on the LP.

http://www.movingunits.net

---

Dance Disaster Movement - We Are From Nowhere
Long Beach's "Dance Disaster Movement" is the closest thing to "No Wave" I've found outside of New York. About three of the songs on this album have a heavy dance approach. The rest of it is totally experimental and noise oriented. The album opening "I Want Your Sass" shares alot of similarities with modern groups such as Sixteens, The Vanishing, Point Line Plane, etc. but with elements of ESG, and Suicide oozing out onto the dancefloor. This is chaotic Disco-Dance-Punk, that falls nowhere near the realm of Electrotrash. The next track "C'est la vie" is another insanely driving number that just rips the head off anyone listening to it. While it's a bit too long to spin on the dancefloor, it makes for great listening at home (or in the car). "The Shots" is about the only other dance number on the album. It's a much calmer song than the the other two dance tracks, but it still retains that kinetic urgency the rest of the album showcases. On the opposite side of the spectrum tracks like "Got the Piece of Mind (Shoot Me in the Fucking Head)" could give some listeners a migraine, with it's intense pounding keyboards and drum patterns. If you like bands like the ones mentioned above, or noise-rock like The Ex-Models, then you will most likely find something here to suit your tastes.

http://www.dimmak.com/ddm/

---

Two if by Sea - Translations
Baltimore's "Two if by Sea", have the potential to make a commercial breakthrough.. if that's what they want? But at this time, I think I prefer them being a more underground phenomenom waiting to happen, than the next Interpol, or Franz Ferdinand. The interesting thing about this band is that they don't sound like any particular New Wave or Post-Punk artists, they just carry that aesthetic very heavily. The leadoff track "This Will Hurt Someone" sounds like it might be intended as a single to get some deserved radio airplay. But the real strength in this band lies in songs like "100 Days" with it's sing-along quality. "Escalator" which has a very melodic and catchy chorus. The pulsing "Swords or Pistols", and the epic album closer "The Affair". The synths on the album tend to sound more late 90's than late 70's, but I spuppose that just gives them a modern touch.

http://www.twoifbysea.org/

---
Hearts Fail - The Empty Promise
San Antonio's "Hearts Fail" cite influences ranging from "The Chameleons", "The Comsat Angels", "The Church", "The Smiths", "Echo and the Bunnymen", etc. While many of those bands can be heard as obvious influences, there is still a certain degree of modern Alternative Rock pervading these songs. Actually the guitar work borders on powerchords at times (most apparent on the song "Make Up")?! The singing is also a little more nasaly and melo-dramatic than I usually prefer, but I got used to it after a few listens. It's not a bad album though, it's just got a few quirks that you might have to get used to. The musicianship is very solid, with a lot of great synth/piano work and a number of very catchy songs. Such as "Architects of Love", "Brother", "Seperate", and my favorite song, the dark driving "Wishing Well" which features some nice synth-string flourishes. Overall this is a good debut album, and the only things I'd like to see change on future releases is more guitar texture, less powerchords, and more subtle vocals.

http://www.heartsfail.com

---
The Guilty Party - Five Songs EP
Here's an interesting new band to look out for. The Guilty Party are yet another entry in the growing number of San Francisco based dark Post-Punk bands. The first track on this five song EP "View From a Closet" has a nice downtempo strut and swagger that creates a very unsettling atmosphere. The song really invokes a sensation of claustorphobia. Like hiding in the closet of a seedy motel, hoping that whoever is stalking the hallway outside won't find you! "Hit You" starts off with a similarly downtempo style, but quickly kicks the energy level up while retaining an atmosphere of dread. "Ten Minutes" is the soundtrack to a journey down an old twisty abandoned back country road at 3am. The song seductively slides around each curve, leaving you wondering where exactly the end of the road leads? "Incandescent" starts off on a slightly more somber note. It slowly climbs a wall of sound and then drops back out again, very reminiscent of early 90's Dreampop.. just a whole lot more sinister. The final track "Lapse" is an excellent way to dust off this taste of brilliance. With an insanely catchy melody and rhythm, it has hints of a nursery rhyme gone horribly awry. Driven by tribal drumming, stinging guitars, and vocalist Angelica Maze's banshee like wail. This song is just begging for an extended mix (*hint, hint*). I can't wait to hear more from The Guilty Party, and you should go and order their EP right now!

http://www.theguiltyparty.us

---

Dresden Dolls - Eponymous Debut
Many projects have been taking predominantly old world themes recently and adding a decidedly modern touch to them. From Rasputina's Cello induced Alternative Rock, to the World Inferno Friendship Society's Jump Swing meets Punk (to this reviewers own project.. which will not be plugged in this review). While many of these fusions come off smashingly, most get a little derivative after awhile. However Boston's Dresden Dolls are one of the few to truly take elements from many old world styles and fuse them harmoniously to modern musical theories. Highlights include the Turn of the Century/Ragtime feel of "Coin Operated Boy", with it's winding down clockwork sound, which leads into the truly heartfelt bridge exposing singer Amanda Palmer's sarcasm as an escape from her longing for her lost (or maybe even, never found) Love. Another of my favorite tracks is "The Jeep Song" a hilarious observation on the growing number of SUV's polluting the streets of Boston (as well as everywhere else in the country). Taking a somewhat silly lyrical theme and fusing it with a late 60's pop feel which recalls similarly dark pop artists such as the Shangri-Las (and even a nod to the Rolling Stones), and featuring a truly moving chorus that get's the listeners pulse racing. "Girl Anachronism" must be where the "Punk-Cabaret" tag comes from.. because it's an intense tale of a girl that's anything but your perfect 50's housewife. Medication, and Insanity seem to be re-occuring themes throughout the song. The line "I might join your century, but only on a rare occasion" explains The Dresden Dolls perfectly. And personally I feel like that more often than not as well. Many of the other songs on the album are also worthy of mention (but I'm starting to run on a little in this review) The equally adrenalized "Bad Habit". "Missed Me", with it's slight Nick Cave influence, and "Half Jack" which recalls (the previously mentioned) Rasputina at times. This is an excellent Eponymous Debut, and I hope to catch the Dolls live later this year if they decide to make a stop here in San Francisco.

http://www.dresdendolls.com
---

Sixteens - Casio
Imagine if you will, Alice falling out of Wonderland and into the world of Liquid Sky. A bleak, neon, urban wasteland. Populated by spastic, twitching creatures, gyrating on a broken disco floor, under black lights. Now imagine the soundtrack to this world. A little Tuxedomoon perhaps? Some Gary Numan, a little Fad Gadget, just a hint of Kraftwerk, and a lot of Sixteens. San Francisco's "Sixteens" create the throbbing electronic noises to accompany such a landscape. Repetetive squealing synth lines that stab you in the brain and don't let go. Tracks like "First Place", and "Bed of Nails" pound rhythms, and melodies into your skull, and you love every second of it. While pieces like "Community People" and "Working For You" roll along in a more minimal, seductively sinister style. The Sixteens can't easily be categorized either. This is music that reminds the listener of late 70s analouge synth experimentations, but with a decidedly modern feel. Casio is quite possibly the most infective piece of electronic noise released this year.

http://www.realgone.org/sixteens
---

Franz Ferdinand - S/T
An Instant classic... excellent from the first track to the last! These are some insanely catchy Post-Punk/Pop songs! Scotland's Franz Ferdinand appeared last year out of nowhere and have been storming the independent charts like mad. I am usually quite weary of commercially succesfull post-punk artists (The Faint, Strokes, etc.) but this group is entirely deserving of the success they have been having recently. I really can't pick a favorite track, because they are all so damn good! There is a little influence from all over the place, from the Gang of Four style bass lines, to the late 60's garage style guitars, and vocals. I would love to catch this band live when they tour San Francisco.

http://www.franzferdinand.co.uk/
---

Leisure Hive - Spasm
Taking their name from a classic "Dr. Who" story, Englands "Leisure Hive" comes lumbering out of their debut LP "Spasm" like some bastard child of Sonic Youth, and Killing Joke. Heavy, Slow, Sludgy, and Tribal are all good descriptions of this album. Good dark rock, that's got equal footing in the Goth, and Post-Punk styles. Most of the album is very mid-tempo, with occasional bursts of guitar theatrics. While the tracks Shelves, and Shift kick the tempo up a few notches. The final track "The Envelope Itself", is a nice Ambient/Noise instrumental full of string and synth swells. All in all, this is a very good start for Leisure Hive, and I'm looking forward to reviewing their follow up LP "3 Ton Edition".

http://www.leisur-hive.co.uk
---

Disco Heine Medina - S/T
Hailing from Pulawy (Poland), the same city as the legendary (in my mind) Siekiera. DHM, have a sound that is almost like an update of Siekiera's mid-80s Post-Punk/Guitar Wave style. Drawing on influences as far ranging as The Chameleons, X-Mal Deutschland, Sad Lovers and Giants, Joy Division, Killing Joke, Belfegore, etc. The band uses keyboards nicely to add just the right amount of background atmosphere, while letting the guitar, bass and drums take the forefront. Highlights include opener Ulice Jak Gesty, Jak Dlugo Jeszcze, Prowadz, and Laufen. I could do without some of the more Metal elements, but they are pretty easy to ignore most of the time. If your looking for some good traditional dark Post-Punk from Eastern Europe look no further than Disco Heine Medina.

D.H.M. Official Website
---

La Mamoynia - S/T
Italy's La Mamoynia is a new minimal electronik project. If you like artists such as Absolute Body Control, Fad Gadget, Tuxedomoon, etc... They will not let you down. This isn't modern Depeche Mode clone synthpop or Hipster Electroclash. This is lo-fi electronic music, with it's roots firmly planted in the late 70s/early 80s. Highlights include Decandence, There Is Only Vanity, Now the Rain Will Fall, Ta Macheria Mou, I Anixi Emoraghi, and an interesting cover of Fad Gadget's "Ricky's Hand"! The only complaint I have is that the vocals are occasionaly louder than the music, which can grate on your nerves. Although I suppose that just adds to the dirty electro sound?

http://www.lamamoynia.com
---
The Godstar Social - Decidedly Lo-Fi Revolution and Static Sky
Knoxville's God Star Social are another new Post-Punk inspired band. Very laid back, and dreamy, with occasional Punk and Psychedelic inclinations. Very influenced by Television, Wire, The Soft Boys, Pere-Ubu, The Velvet Underground, etc. This is a nice debut LP that floats along from noisy feedback squalls to dreamy guitar melodies. every track has a television static introduction. The obvious lo-fi production quality really gives it a Proto-Punk sound, like something out of the early/mid 70s. Highlights include Pirate Radio, Lapse, Fever, and The Static Sky. My only complaint is that a lot of the material is somewhat repetitive, and a lot of the tracks sound the same as each other. Not a bad start though.

http://www.godstarsocial.com