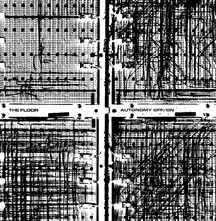 The Floor - Autonomy off/on
Reviewed by: Marina Stamboulieh
&nbsp I am so glad I dragged my tired self out last May to see The Floor perform in Vancouver with Radio Berlin. I have been listening to this EP constantly since then, and it is a gem - a beautiful, understated modern renaissance of the classic post-punk sound.
&nbsp The Floor are from Edmonton, in Alberta, Canada. Pulsating basslines that sound at times almost dub-inspired play beautifully off clipped, metronomic drum beats. The icy guitar lines weave in and out of the music with swelling, dreamy melodies, way-off-in-the-distance squalls and pointed stabs of sound. The keyboards are used for both lush atmosphere and melody. I am so grateful for the tasteful use of keyboards and 'vintage' keyboard voices on this EP (amidst today's tawdry '80's revivalists') . There is no trace of the post-hardcore penchant for whiny, overwrought vocals and cloying displays of technical virtuosity (gratuitous time signature changes, nonsensical stop-starts just for the sake of it etc..). This is an intelligent EP from start to finish. Matt Pahl's vocals are perfectly cold and detached.
&nbsp The first track, 'Drown Inside', is my favourite, and really deserves to be released as a single. All the musicians are really at their best here, Paul Arnusch's bass playing is prominent - melodic, full and reverberating against the drums. 'Impossible' is another track that shows off his excellent bass playing - I really like the moments where the bass is full, pulsing and slightly off-kilter. The delay-drenched guitar lines in this song are really nice as well. 'Noncom' is surely a respectful nod to New Order, and shows off drummer Dan Carlyle's ability to combine precise, machine-like drumming with the dense, dynamic sound of live drums . 'Automaton' is my least favourite track. It's not really a bad song, it just seems to me like a slightly contrived foray into The Faint's territory, which doesn't really grab me, and seems unnecessary since they do well with a guitar-based sound. Overall, though, the synths on this EP are subtle well thought-out and add a lush, atmospheric quality to the album.
&nbsp If a reviewer must provide reference points by drawing comparisons to other bands then here is the list: The classic sounds of Echo and the Bunnymen, Wire, Psychedelic Furs, House of Love, Chameleons UK, The Jesus and Mary Chain and Japan (editors note: I'd also tack on For Against, and Sad Lovers and Giants as well) with a heavy dose of the modern sensibilities of the Cold War and Turn Pale. Like the latter 2 bands, The Floor takes an intelligent, intellectual approach to the exercise of reconsidering and reworking the post-punk aesthetic in a modern context. An interest in historical and impending disasters, paranoia, and cold-war tension are always at play.
&nbsp You should track down this EP and support an excellent band that knows its history and has the intelligence and talent to move the great post-punk traditions forward. I have a feeling we can look forward to something really profound from them in the future.
Matt Pahl - Guitar/Vocals
Dan Carlyle - Drums
Paul Arnusch - Bass
Graham Lessard - Synths/Guitar