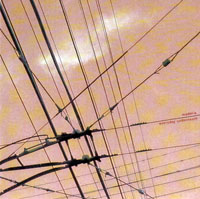 Madelia "Everday Underneath"
Reviewed by: Joshua A. Pfeiffer
&nbsp Today we recieved the new Madelia EP entitled "Everyday Underneath". San Francisco's Madelia have a sound that combines Indie, Post-Punk, and Dreampop influences. But without trying to sound like any of those styles in particular. Besides the self proclaimed comparisons to Antioch Arrow, I also hear a lot of The London Suede (mostly in the vocals and guitars) throughout the EP.
&nbsp The lead off track Vacancy, has a nice quiet build up, that reaches it's peak at about a minute into the song. Guitarist Trevor Stearns style reminds me of And Also The Trees, and fellow SF artists Swann Danger. There's also a really nice drum breakdown compliments of Ralph De La Rosa, and some excellent use of strings during the last few minutes of the song. It's a great catchy track, and a solid start to the EP.
&nbsp The second track Non Fiction, picks things up nicely, adding a more danceable vibe to the music. Keyboardist Jen Kuca makes a more stated appearance during this track. I can't help but think of The Comsat Angels for some reason while I listen to this song.
&nbsp The third track Scaffolding is heavily reverbed Dreampop bliss. Bringing to mind artists such as Sad Lovers and Giants, My Bloody Valentine, and Slowdive. With great wandering guitars and a steady bassline from Andrew Burmester. The band keeps adding new layers after every verse or so, keeping the song interesting. Vocalist Bryan Bindloss is in top form during this song as well. Keeping the vocals reined in nicely, to let the music drive the song. It's a nice break from the first two more upbeat tracks, and a great lead in to my favorite song on the EP, The Compliment.
&nbsp I don't really know how to explain this song, because when I first start listening to it, It sounds similar enough to the first two tracks, (still catchy of course) but as it goes on I am slowly drawn in. The guitar solo just grabs me by the hair and pulls me along with it's quasi-Cure pacing. Then about halfway through everything drops out to allow a nice string interlude that slowly builds back to the main guitar riff.
&nbsp I would also like to point out how nicely produced this EP is.. singer Bryan Bindloss does a great job of making his music stand out, without making it too glossy. I think I've listened to this EP about ten times. So now I'm pretty much hooked, and I am greatly looking forward to a full LP to be released by these talented new musicians.