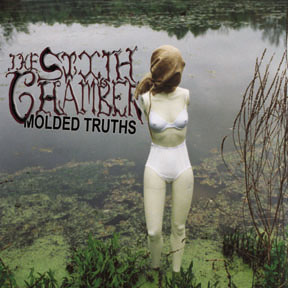 The Sixth Chamber - Molded Truths (2003)
Reviewed by: Joshua A. Pfeiffer
&nbsp The Sixth Chamber is a new project based out of Los Angeles Ca. featuring Vocalist/Bassist/Organist, Rahne Pistor (ex. Skabs, The Undead (NY)), Guitarist, Kjehl Johansen (ex. Urinals, 100 Flowers), Guitarist, Carlo Dean, and Guitarist, Sevan Kand (son of Valor Kand, and Gitane Demone of Christian Death). While more "Deathrock" than "Post-Punk" I felt that some of the viewers of this site, may enjoy the band, mostly for their creative approach to song writing (well that and Deathrock has a lot in common with Post-Punk). The entire album has a very dark, experimental quality to it. Just don't call it "Goth"
&nbsp The first track Possessed has an obvious Doors influence, due to the farfisa effects, and vocal delivery. But personally I hear more than a little Wall of Voodoo in the song as well. During the last chorus the expected Christian Death style crops up a bit, which will be revisited all throughout the album.
&nbsp Shameful Divide follows with a slightly more upbeat, and Punk style. Well Punk in a very twisted experimental way. With eerie samples of babies crying being a good example of the twisted elements. Rahne Pistor sounds like the disembodied brother of Sevan, almost like a younger "Wind Kissed Pictures/Atrocities" era Valor, or a "Catastrophe Ballet/Ashes" era Rozz.
&nbsp Circus Faustus is a very appropriate title for the next track. Bearing similarities to fellow Los Angeles artists Cinema Strange. Like a Circus from the depths of Purgatory. Not so much an Evil circus, just a dark and demented one. The wandering calliope/organ sounds lend themselves greatly to the mood of the song. Once again a very, very experimental affair.
&nbsp Taking it's cue from Circus Faustus, The Charred Gavel continues with a slight decaying circus sound. Once again the Doors influence rears it's tripped out head. But that's mostly due to the fact the band uses a Farfisa Organ sound quite liberally, in conjunction with minor key melodies from the bass, drums and guitars.
&nbsp Princess Doe is another post-Rozz Christian Death like track. It certainly bears similarities to tracks like "Believers of the Unpure" with very winding guitars, and a catchy chorus with dual vocals (similar to Valor and Gitane). The band tends to have very visual lyrics, and this is a great example of their song writing style.
&nbsp The next track Mesmera's Gaze is a mid-tempo affair with a very hypnotic flow. It reminds me more than a little of "Stairs (Uncertain Journey)" from Christian Death, with it's middle eastern tinge.
&nbsp Let me say this right now, so I don't have to keep repeating myself every paragraph, the entire album has a lot of Christian Death influence. Which is to be expected considering that they are relatives of the band in a sense. Now with that out of the way, I'd also like to point out the fact that none of the songs on this album sound like they are purposely trying to cop a Christian Death sound. They are all very unique tracks, that just happen to bear more than a little similarity to that Classic Los Angeles Deathrock group.
&nbsp The title track Molded Truths is by far one of the most experimental tracks on the album. The lyrics are more ranted then sung. Once again a very Punk/Psychedelic sound is present. The chorus is almost more hypnotic than Mesmera's Gaze. The Virgin Prunes could be name dropped as a heavy influence on this song.
&nbsp Delusions of Persecution follows with a much more upbeat approach than most of the previous tracks on the album. The band switches gears to a more rolling bluesy sound during the chorus and I'm trying very hard not to bring up the Rozz thing again.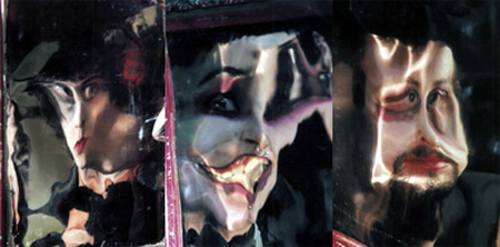 &nbsp Two Legged Parasites is another more upbeat Deathrock number. This is another good track, but I can't really think of much to say about it. I like it, it would certainly work on a dance floor (for the right crowd).
&nbsp The final piece Verbezen Gungstaeter (clocking in at a whopping 51 secs.) is a short manic, noisy, bizarre way to end an already twisted, dark, demented, and delusional album.
&nbsp This band gives me great hope for the future of the Los Angeles Deathrock scene, proving that their are still creative, and exciting, people with a lot of origional ideas still living in the City of Angles.