Digging Up Old Memories:
A Retrospective and Review
by Aldyth Beltane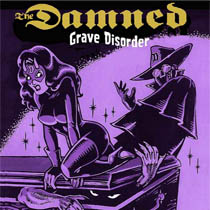 The Damned was my favorite band of the early British punk rock explosion. The era was incredibly exciting, rich with new bands like the Sex Pistols, the Clash, and lesser known acts such as Eater, and the brilliant Adverts (who were also faves, due in no small part to my crush on bassist Gaye Advert.) But the Damned were theatrical and fun, and singer Dave "Transyl" Vanian's voice soared while other singers of the era snarled. Their first, self-titled album was filled with short energetic songs on a variety of subjects, relentlessly driven by Brian James' rapid-fire guitar chording. After the release of the second album, Music for Pleasure, the Damned broke up, as James left to form the short-lived Tanz Der Youth, and Vanian joined the Doctors of Madness for a brief stint, with the phenomenal Richard (then "Kid") Strange. As an aside, the Doctors of Madness were one of the most profound little-known bands ever, cursed by falling between the decline of glam and the advent of punk, and entirely too intellectual for either.
But breaking up and reforming was swiftly to become a pattern for the Damned, as by 1979 they had reformed (without James) and released Machine Gun Etiquette, arguably their best effort. Songs such as "Plan 9, Channel 7" and "Melody Lee" retained the original punk energy, but also contained hints of the Goth to come. Vanian's voice had become stronger, and remained unique even as "new romance" eclipsed punk on the British music scene.
Grave Disorder Track List:
Democracy
Song.com
Thrill Kill
She
Lookin' for Action
Would You be So Hot
Absinthe
Amen
Neverland
The End of Time
Obscene
W
Beauty of the Beast
By the early eighties, the Damned came to California, and discovered the retro 60's garage punk and psychedelia of bands such as L.A.'s Unclaimed, and San Diego's Crawdaddys, who drew complete and accurate influence from originals such as the Chocolate Watchband, the Music Machine, Sky Saxon and the Seeds, and the literally hundreds of obscure bands compiled in collections like Pebbles and Broken Dreams. The impact of this music was so profound that Vanian launched a side project, Naz Nomad and the Nightmares, which recreated these vintage classics lovingly, but with the Damned's own unique interpretation. Naz debuted with "Just Call Me Sky" on an early post-Batcave compilation, The Whip, followed by one album, Give Daddy the Knife, Cindy, released in 1984.
I lost track of the Damned following their "farewell" tour of 1989, but they seem to have broken up and reformed a couple of times since then.
Wherein comes the new album, Grave Disorder. My initial impression is that this album has two very distinct sounds and personalities. Songs such as "Democracy", "Song.com" and "Lookin' for Action" contain a punk/pop sensibility with wry political overtones. "Democracy" itself has a gleeful "happy punk" sound, similar to "Noise Noise Noise" from Machine Gun Etiquette whilst the lyrics deliver a biting invective against politics of any sort&nbsp— the bottom line being that nothing ever changes on that level.
"Song.com" is an ironic blend of surf sounds with lyrics bemoaning the addictive qualities of Web surfing. "Absinthe", "'Til the End of Time" and "Beauty of the Beast" convey a more romantic and gothic atmosphere, as well as reflecting Vanian's continuing fondness for psychedelia. "She" is in fact, a gorgeous, soaring ode, an epiphany of Goth psychedelia, and the most moving song on the album. "Absinthe" is lovely and transcendent, a tour of the unreal world guided by the green fairy herself, as voiced by Vanian.
The lyrics themselves reflect a variety of atmospheres, from the gleefully anarchistic ("Thrill Kill") to the spiritually analytic ("Amen") to the darkly romantic. Vanian and Captain Sensible are the only remaining members of the original group. On this line up are Patricia Morrison on bass (is this Patricia formerly of the Baggs and the Sisters of Mercy?), Monty Oxy Moron delivering some really sweet, fully blown keyboard sounds, and Pinch on drums. Dave Vanian can still sing, and his delivery is rich and vibrant as ever, and not without appropriate humor. And while I'm usually a guitar kind of girl, I'm a sucker for that keen Farfisa sound, or a Hammond organ with a rotating leslie. Monty Oxy Moron combines the two for a sound that is captivating, and mercy, does it rock!
While Grave Disorder is not the epitome of Damned albums, it is more than listenable, and contains moments and songs that are outstanding. I, for one, am very glad that they're still around. Or back. Or whatever.
Aldyth Beltane is a red-haired glam-rock sex magician from the future. She just dug up her old copies of the first three Damned albums...
Back to